Garden
information
Opening hours
Information about opening times, types of visit and tickets of the Ville
Pontificie Gardens and the Apostolic Palace of Castel Gandolfo, are available on the official website of the Vatican Museums
Contacts
Piazza della Libertà
00073 Castel Gandolfo (RM)

Ufficio Servizi e Rapporti con il Pubblico
T. +39 06 698 83145
T. +39 06 698 63260

www.museivaticani.va
Lazio
Ville Pontificie di Castel Gandolfo
Castel Gandolfo, Rome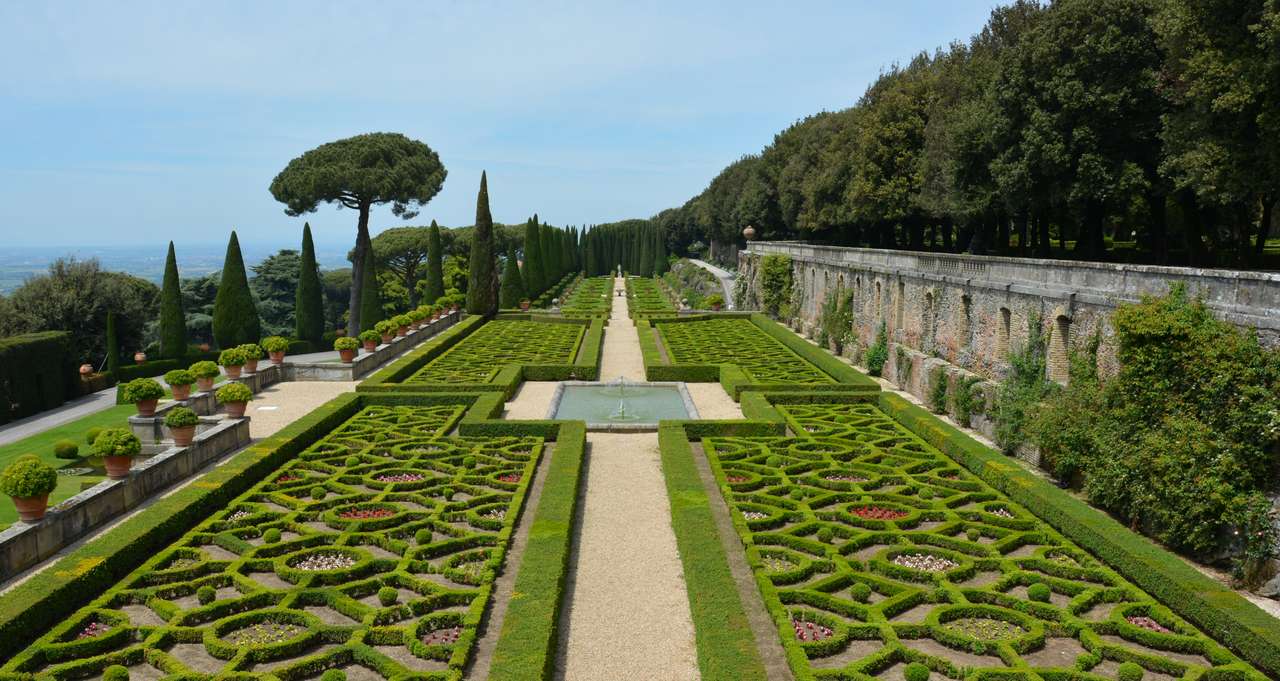 History
The history of these Villas covers two millenia: the Albanum Domitiani, an imposing system of palaces, pavilions and roads, fundamental to Imperial politics since Alba Longa arose here, the sacred city founded by Iulo ("forefather" of Emperor Augustus) and the birthplace of Romulus and Remus. Thus a fi ne thread links the history of this pleasure ground for Emperors, aristocrats and Popes, from Emperor Domitian (81-96 A.D.) to the present Pope. Today the Pontifi cial Villas cover an area of 55 hectares, from the village of Castel Gandolfo to the centre of Albano. They were created in the 1930s as the Pope's private summer residence, unifying Villa del Moro, Villa Cybo and Villa Barberini, with its adjacent farm. The 17th century gardens with box hedging are below the Apostolic Palace at Castel Gandolfo, while the view from the piano nobile of Villa Barberini sweeps over the belvedere and the holm oak galleries, over 400 years old, shading the walkways between the ruins of the Domitian palace: vaults of buildings, a cryptoporticus, theatre and nymphaea. The twentieth century renovations respected the style of gardens in ancient Rome, the common denominator between all the eras to leave their mark on this area. Nevertheless there are also many modern gardens, such as that of the Madonnina or Villa Cybo's splendid lemon-house. The historic gardens include: the Citrus Garden, the Maze, the Garden of Mirrors and the Herb Slope. The fl owerbeds between the kitchen garden terraces, the Crucifi x Garden and the Good Shepherd Garden are all modern. The park boasts many water games and hundreds of plant species as well as being a sanctuary for foxes, badgers, black squirrels, birds of prey and woodpeckers. The farm has continuously adapted production to ecological criteria over the decades. Apart from the garden it is also possible to visit the papal portrait gallery in the Apostolic Palace.


GREEN PASS
From August, 6th, 2021, and until otherwise specified, entry will be allowed only to those in possession of a covid-19 green certification (green pass or equivalent certifications) currently valid.
The provisions do not apply to children under the age of 12 and to individuals with specific medical certification.