ONISHI YASUAKI "REVERSE OF VOLUME"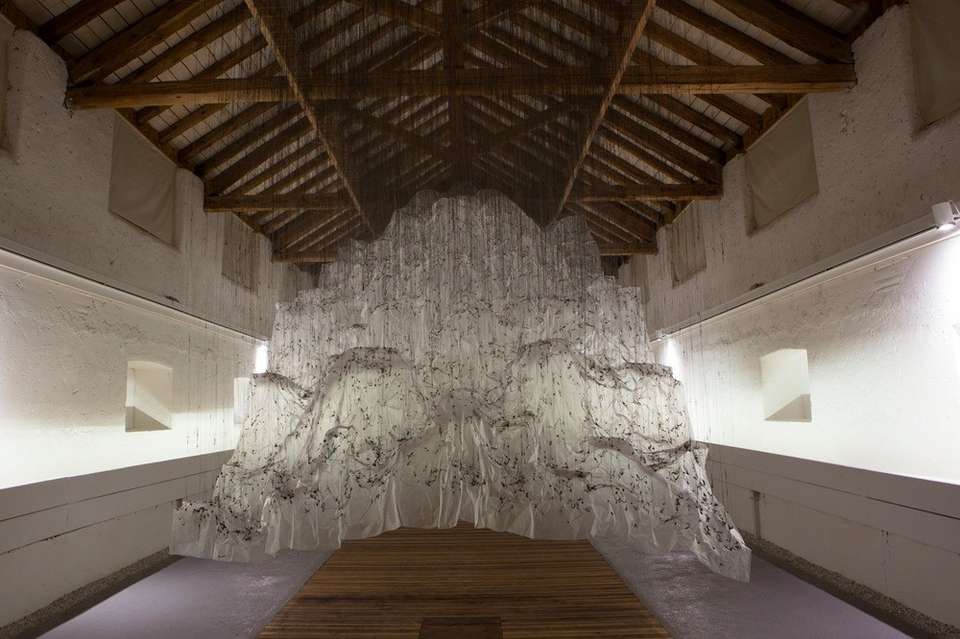 From May 2016 up to May 2018 you will be able to admire the work of Onishi Yasuaki ''Reverse of Volume'' at Arte Sella. A talented Japanese artist, formed in sculpture at the University of Tsukuba and the Kyoto University of Art, is known in Japan and abroad thanks to his exhibitions.

In his installation, Reverse of Volume, Yasuaki Onishi uses the simplest materials – plastic sheeting and black hot glue – to create a monumental, mountainous form that appears to float in space. The process that he calls "casting the invisible" involves draping the plastic sheeting over stacked cardboard boxes, which are then removed to leave only their impressions. This process of "reversing" sculpture is Onishi's meditation on the nature of the negative space, or void, left behind. It appears to be a suspended, glowing mass whose exact depth is difficult to perceive. Almost like stepping into an inner sanctum or cave-like chamber, the semi translucent plastic sheeting and wispy strands of hot glue envelop the viewer in a fragile, tent like enclosure speckled with inky black marks. Visitors can walk in and out of the contemplative space, observing how the simplest qualities of light, shape, and line change.


Yasuaki Onishi studied sculpture at University of Tsukuba and Kyoto City University of Arts. He has had solo exhibitions throughout Japan and internationally, and his work was included in Ways of Worldmaking (2011), at the National Museum of Art, Osaka (NMAO).
Informazioni
Arte Sella
Malga Costa Val di Sella
38051 Borgo Valsugana (TN)

Tel. +39 0461 751251

ONISHI YASUAKI ''REVERSE OF VOLUME''
up to May 2018

Openings
All year round, closed on December 25th

January and February: 10am- 5pm
March, April, May: 10am - 6pm
June,July, August: 10am - 7pm
October: 10am - 6pm
November and December: 10am - 5pm


Prices
Adults: € 7,00
Groups (over 25 people): € 5,00
Kids 0-10 years and disabled persons: free