Summer nights in the court of Vanvitelli
Special opening of the Reggia di Caserta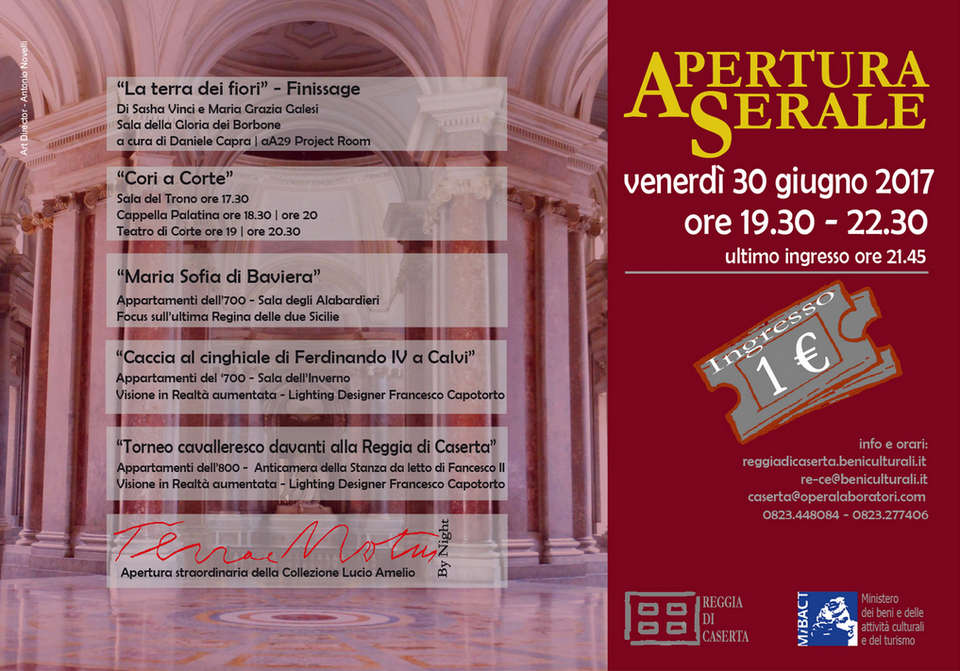 From Friday 30th June to 22nd September
the
Reggia di Caserta
will open exceptionally its gates from 7:30pm to 10:30.
Summer nights in the court of Vanvitelli
is an unique opportunity to enjoy the
Caserta's Royal Park
at night.
Caserta's Royal Park was designed along with the palace in the second half of the 18th century by the architect Luigi Vanitelli on the command of Charles of Bourbon, son of Phillip V of Spain and Elisabeth Farnese. Leaving the palace the park, spread over 122 hectares, reveals itself divided into two parts.
Evening openings will continue throughout the summer on
8-15-21-28 July, 4 August, 2-9-16-17-22 September
.
The ticket for the evening openings of the historic apartments will be 1 euro available from 7pm.
Information
Reggia di Caserta
Viale Dohuet, 2/A
81100 Caserta

Tel. +39 0823 277111

Summer in the Vanvitelli court
30 June, 8/15/21/28 July, 4 August, 2/9/16/17/22 September
Special opening from 7:30pm to 10:30pm
Ticket (after 7pm): € 1,00