VIVERE IL PARCO 2018
Events and initiatives in the most important historical park of the Province of Trento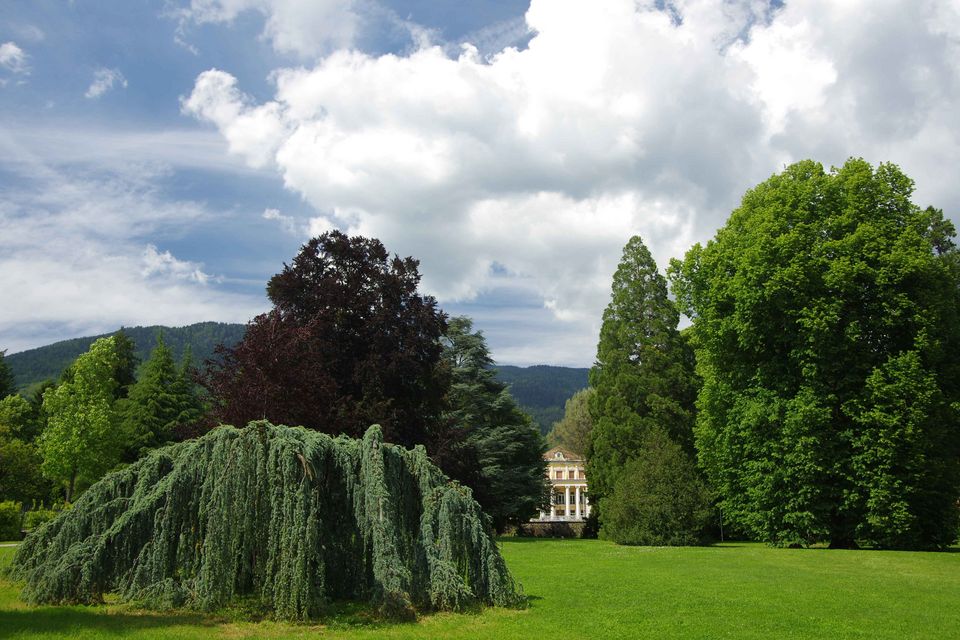 With its thirteen hectares of parkland and around 570 majestic trees,
Levico Spa Park
is the most important historic park in the province of Trento. Its history dates back to the end of the 19th century and is closely linked to the establishment of Lévico Terme as a spa town of European standing.
The project drawn up by the German landscape gardener Georg Ziehl (1873 - 1953) transformed an area of countryside where a large hotel was sited, together with its accompanying treatment centres, into an extensive parkland site enhanced by a range of tree species; a Kurort combing spa treatments with walks, heliotherapy and relaxation.
In the summer the
Levico SpA Park
is animated by several events and initiatives to discover the beauty of the botanical garden.
Let's discover the
Live the Park
new edition together.
Botanical visit to the Parco delle Terme
To admire its delightful botanical heritage every Tuesday, from 26 June to 4 September, it is possible to participate for free in the botanical visit organized by Nicola Curzel. The proposed itinerary offers the opportunity to admire and learn about the main trees of the park.

APPOINTMENTS
June 26th
3/10/17/24/31 July
7/14/21/28 August
4 September
Meeting at 4.00 pm at the main entrance of the park, Viale Rovigo
Registration at the APT Valsugana offices tel. 0461 727700, within 12:30 of the day of the activity
In case of severe weather the activity is canceled

Exhibition "Forte Pura Salubre ACQUA"
At the Villa Paradiso inside the Park it is possible to visit the exhibition Forte Pura Salubre ACQUA on thermal tourism in the Alps and in Levico between the 19th and 20th centuries in collaboration with the Fondazione Museo storico del Trentino and the Biblioteca comunale di Levico Terme
The sources of mineral water have constituted and continue to represent an important natural resource of the Alpine territory. Numerous locations have known a significant urban, socio-economic and socio-cultural transformation due to the constant increase of the tourist flow.

Opening Hours
Tuesday to Friday 2.00pm - 7.00pm
Tuesday and Thursday also in the morning 10.00am - 1.00pm
Saturday, Sunday and holidays 10.00-13.00 / 14.00-19.00
closed on Monday and 15th August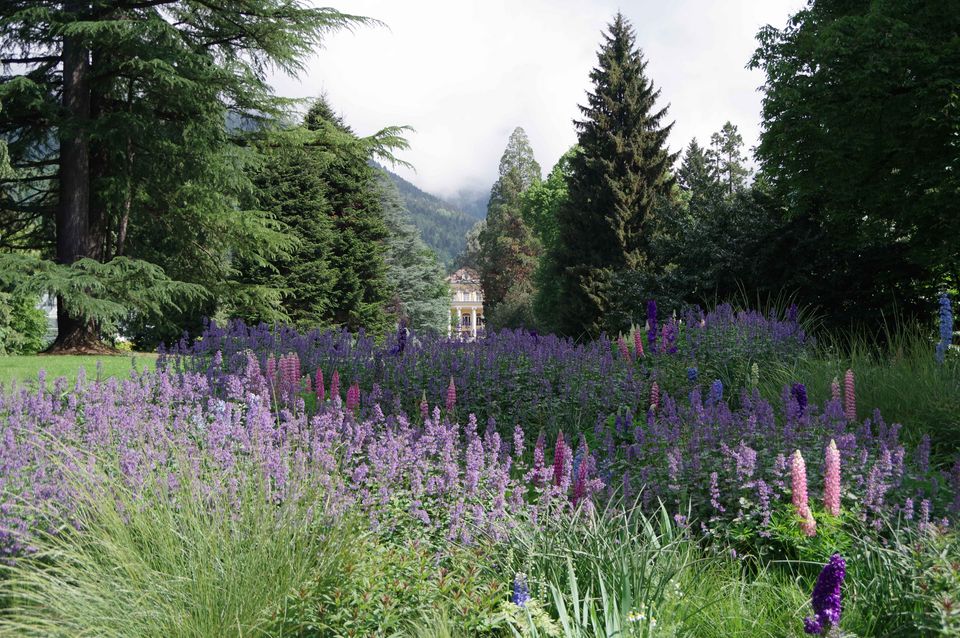 The laboratories are aimed at all those who want to relax in direct contact with nature, rediscovering its naturalistic and artistic vein.

Wednesday, 4 July, 4.00 pm
SUMMER SYRUP OF SYRUPS AND PREPARATIONS
We use what nature gives us in the summer for renew our table! What to bring: apron, gloves disposable, glass jars with lid of various sizes.
Curated by Linda Martinello

Wednesday 18 July, 4.00 pm
THE BEAUTY OF THE FACE IN THE KITCHEN
Preparation of simple recipes for a face care made with easy-to-find ingredients. What to bring: apron, disposable gloves, glass jars with
lid of various sizes.
Curated by Linda Martinello

Tuesday, 24 July, 4.00 pm
ANTARI ERBARI WITH BLACK SMOKE
We observe the leaves and flowers of the park and experiment with the technique of Ectypa Plantarum, used by Leonardo da Vinci, to create impression-printed herbariums using black smoke, a vegetable pigment. Observing images with symbolic and realistic botanical depictions, we will build a timeline that tells the historical evolution of herbaria.
Curated by Gabriella Gretter

Wednesday, 25 July, 4.00 pm
PRINTED ERBARI, ARTIST'S IMPRESSION
Laboratory in which to observe, draw, engrave and print a flower, a leaf, through the creation of an engraved matrix.
We will create botanical tables with the printing technique, inspired by
artists who portrayed nature with the eyes of the botanist.
Curated by Gabriella Gretter

Friday 3 August, 4.00 pm
HEALTH WORK AND RECIPES OF THE
POPULAR TRADITION
Together we prepare the ancient remedies of alpine women.
What to wear: apron, disposable gloves, jars of glass with lid of various sizes.
Curated by Linda Martinello

Tuesday 7 August 10.00 am - 12.00 am and 3.30 pm - 6.00 pm
The floral designer Oscar Aciar proposes a workshop of floral arrangements
SIMPLICITY: FREE COMPOSITIONS
Floral arrangements are realized with natural materials, with classic or contemporary forms. The Argentine Oscar Aciar lives and works in Rome, defines himself as a ''flower artisan'' and is present in television broadcasts on Real Time and on Sky. Design with creativity and create with art, harmony and balance, compositions, decorations and floral decorations.
What to bring: glass or plastic container.

Friday, 17th August, 4.00pm
THE COSMETICS BASED ON THE SUMMARY
The bees give us precious ingredients that can turn into allies of our beauty.
What to wear: apron, disposable gloves, glass jars with lids of various sizes.
Curated by Linda Martinello

Tuesday 21 and Wednesday 22 August, at 16.00
BOTANICAL DESIGN WORKSHOP: THE FORMS OF LIFE
Through the innervations of a leaf or the growth of the branches in
a tree, or looking at the blossoms we can open
observe the expression of life in nature, and recognize it
beauty. Colored pencils and a lot of curiosity are the ingredients
suitable for this pleasant and regenerating experience.
Curated by Claudia Fabbri

Tuesday 11 September, 4.00 pm
HOMEMADE SAPONIFICATION
Preparation of handmade soaps using poor materials.
What to wear: apron, disposable gloves, empty containers of
tetrapack.
Curated by Linda Martinello


Free participation and free attendance
Maximum 15 participants
Registration by the day before the start of the course
at APT Valsugana offices tel. 0461 727700 - tel. 0461 706824
info@visitvalsugana.it
Meeting at the Park's greenhouse
Duration approximately 2.5 hours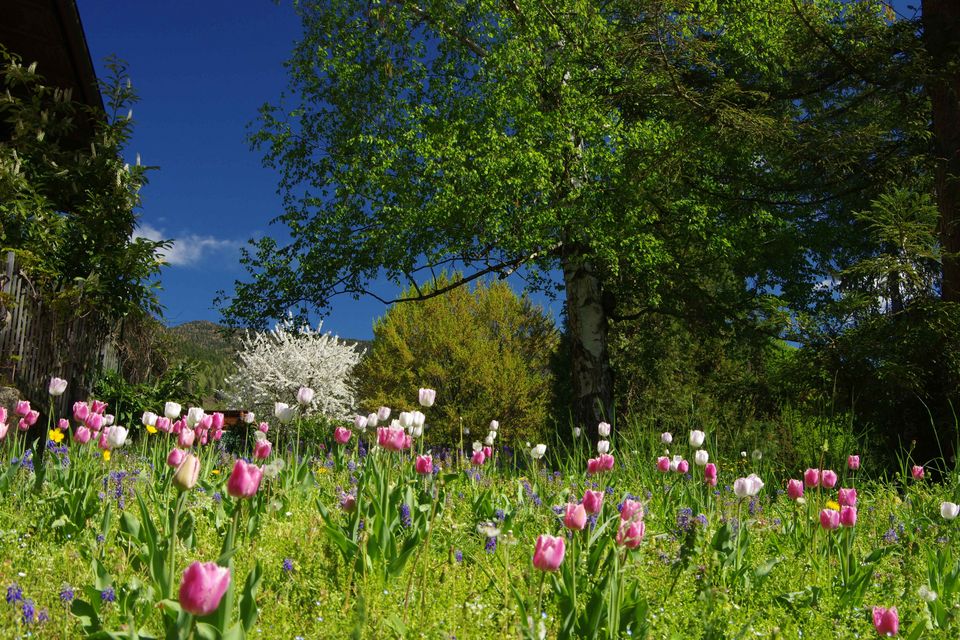 In the summer program of Vivere il Parco 2018 the workshops for children and teenagers aged 6 to 12 could not be missing. The workshops, held by expert educators, will take place (from 19 July to 23 August) at the greenhouse of the park and include moments of creation and exploration in order to stimulate the sensitivity of children in respect of the environment and their imagination in the use of the simplest things that nature gives us every day:


Thursday 19 July, 10.30
FIORI D'ACQUA-RELLO Gardens on paper
Inspired by the flowers of the park we experiment with watercolor painting and create botanical tables collected in a small artist's notebook. Younger children will experience flower painting with tissue papers to color petals.
Curated by Gabriella Gretter

Thursday 26 July, 16.00
WORLD TREES
Construction of an original herbarium to get to know the different ones
trees in the park and their provenance. Like real scientists we classify and conserve the different leaves of the trees of the park, knowing its history and its different origins.
By AmBios

Thursday 2 August, 10.30
FALEGNAMERIA WORKSHOP: THE SMALL WILD ANIMALS OF THE PARK
A little plywood, a little color, and a lot of imagination. Here are the
ingredients to build the cute animals in the park and learn to recognize them. As some small carpenters you can put to the work stimulating dexterity with the pleasure of the game.
By AmBios

Friday 3rd August at 4.00pm
HEALTH WORKING AND RECIPES OF THE
POPULAR TRADITION
Together we prepare the ancient remedies of alpine women.
What to wear: apron, disposable gloves, jars of glass with lid of various sizes.
Curated by Linda Martinello

Tuesday 7 August 10.00 am - 12.00 am and 3.30 pm - 6.00 pm
The floral designer Oscar Aciar proposes a workshop
of floral arrangements
SIMPLICITY: FREE COMPOSITIONS
Floral arrangements are realized with natural materials, with classic or contemporary forms. The Argentine Oscar Aciar lives and works in Rome, defines himself as a ''flower artisan'' and is present in television broadcasts on Real Time and on Sky. Design with creativity and create with art, harmony and balance, compositions, decorations and floral decorations.
What to bring: glass or plastic container

Friday, August 17 at 16.00
THE COSMETICS BASED ON THE SUMMARY PRODUCTS
The bees give us precious ingredients that can turn into allies of our beauty.
What to wear: apron, disposable gloves, glass jars with lids of various sizes.
Curated by Linda Martinello

Tuesday 21 and Wednesday 22 August at 16.00
BOTANICAL DESIGN WORKSHOP: THE FORMS OF LIFE
Through the innervations of a leaf or the growth of the branches in
a tree, or looking at the blossoms we can open observe the expression of life in nature, and recognize it beauty. Colored pencils and a lot of curiosity are the ingredients suitable for this pleasant and regenerating experience.
Curated by Claudia Fabbri

Tuesday 11 September at 16.00
HOMEMADE SAPONIFICATION
Preparation of handmade soaps using poor materials.
What to wear: apron, disposable gloves, empty containers of
tetrapack.
Curated by Linda Martinello

Thursday, August 9th at 4.00pm
HUNTING LEAVES
Discovering the trees in the park. One will be made
fun treasure hunt to learn about the different leaves and the different botanical species that populate the park and a brief visit to the environment for the verification of the collected material.
By AmBios

Thursday, August 16th 10.30am
WE BUILD THE MEMORY OF THE DAY
During a short walk inside the park yes they will be able to collect flowers and leaves that will be used for build a small flowered framework to conserve and take home as a souvenir of the day.
By AmBios

Thursday, 23 August, 4.00 pm
THE VEGETAL PIGMENTS
Experiments with plant pigment extracts to use them as colors and form pages of mini books to be built together.
Curated by Gabriella Grett


Free participation and free attendance
Maximum 15 participants
Registration by the day before the start of the course
at APT Valsugana offices tel. 0461 727700 - tel. 0461 706824
Meeting at the Park's greenhouse
Duration approximately 1.5 hours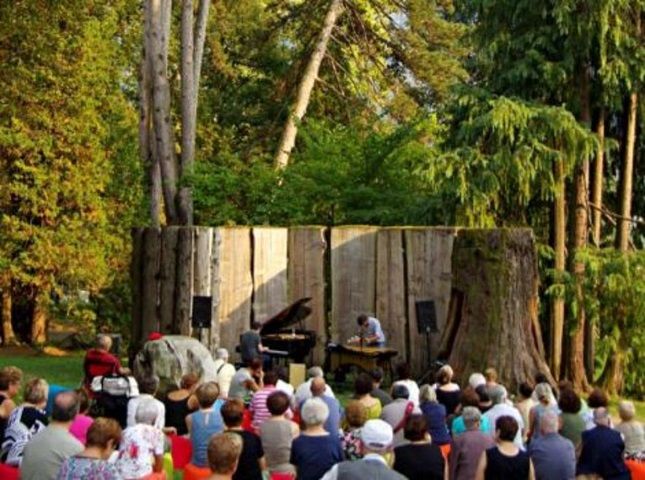 A musical itinerary between different genres and styles. Concerts designed to bring sounds among the trees and flowers of the park, where music is offered in full harmony with the surrounding natural environment.
The concerts are held at the ''sequoia'' installation, at the main entrance of the park, or at the natural amphitheater. In case of bad weather in the park house.

Wednesday 27 June, 9.00 pm
MAX DE ALOE QUARTET
presents Björk on the moon
Natural amphitheater

Friday 6 July, 9.00 pm
PATRIZIA DI MALTA SOUTH
AMERICAN WAYS
TRIBUTE TO ELIS REGINA
Natural amphitheater

Wednesday 11 July, 9.30pm
RONIN
Natural amphitheater

Sunday 15 July, 9.00 pm
DANIELE DI BONAVENTURA
BAND'UNION
Natural amphitheater

Thursday 19 July, 6.00 pm
MICHELE MARINI ORGANICTRIO
FEATURING DANIELE DONADELLI
''Sequoia'' installation

Saturday 28 July, 6.00 pm
STEFANO COLPI OPEN ATRIO
''Sequoia'' installation

Thursday 2 August, 9.00 pm
DE ALOE FOREIGN LIBRARIES TRIO
presents SONNAMBULI
Natural amphitheater

Friday 17 August, 9.00 pm
SONYA ROGERS & THE HARLEM
GOSPEL SINGERS
Natural amphitheater

Tuesday 28 August, 6.00 pm
QUARTET ZAMPANÒ
''Sequoia'' installation

Friday 30 August, 6.00 pm
ROLF LISLEVAND TRIO
''Sequoia'' installation

Tuesday 4 September, 6.00 pm
PIANO ONLY
''Sequoia'' installation
Teatro Natura. 94 passi in giardino
This show speaks of a much loved garden and the many things that happen to you. Minute passages are discovered, beings meet, the intelligence of plants and the enormous power are touched earthworms, boundaries are crossed, steps are taken that lead to intimacy with the place. An intimate and even visionary journey, an invitation in a secret place.

Wednesday 18 July at 18.00
94 PASSI IN GIARDINO (94 STEPS IN THE GARDEN)
By and with Lorenza Zambon
Casa degli Alfieri Theater and Nature
''Sequoia
Parco delle Terme di Levico
Viale Rovigo - 38056 Levico Terme (TN)
Tel. +39 0461 706824

Vivere il Parco 2018, from 26 June to 11 September 2018
Botanical visit to the Park, every Tuesday, from 26 June to 4 September
Adult Workshops, from 4 July to 11 September (as planned)
Kids Lab, from 19 July to 23 August (as planned)
Parco di Note, from 27 June to 4 September (as scheduled)